Sinomach Heavy Industry Changzhou Base holds product presentation in Iran
2013-11-20 15:25:32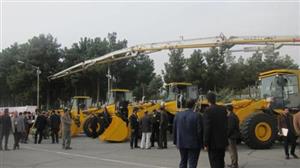 On November 3, the product presentation of Sinomach Heavy Industry Changzhou
Base took place in Tehran. Among over 300 attendees were leaders of Iranian
Revolutionary Guard Corps, representatives of Iranian state-owned construction
companies, experts of the Sharif University of Technology, as well as a
multitude of agents and distributors in Iran's construction machinery industry,
journalists with several media outlets, as well as customers. A news anchor of
the Islamic Republic of Iran Broadcasting (IRIB) hosted the presentation.
The company will work with Sinomach Heavy Industry to shoulder the important
mission of providing "complete construction machinery solutions" in
Iran in the coming two decades, said Salim, general manager of the Iranian
agent of Sinomach Heavy Industry Changzhou Base in an address. Sinomach Heavy
Industry undertook to offer customers complete sets of cost-effective
construction machinery as well as perfect and timely after-sales services.
On the scene of the presentation, the Iranian agent elaborated on superior
performance of the products, after-sales services and parts reserves. The
guests showed strong interest in the products and some customers even got into
cabs for fun of operation.