Sinomach Heavy Industry Changzhou Base exports 29 backhoe loaders to Cuba
2013-11-20 15:23:30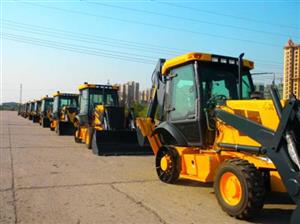 29 backhoe loaders of Sinomach Heavy Industry Changzhou Base have recently
arrived in Cuba safe and sound. Since going into production in 2000, the base
has frequently exported its backhoe loaders in volume to dozens of countries
like Sri Lanka, Cuba, Brazil, Chile, Thailand and Canada, gaining wide praise from
foreign customers.
Besides backhoe loader, the base has exported products like loader and grader
to Cuba many times, and local customers are satisfied with its product quality
and after-sales services. Numerous customers in export destinations prefer the
base's products due to their outstanding cost performance. This time, the
terminal customer required 29 backbone loaders from the base and reached a
cooperative agreement again with the base upon friendly consultation. To ensure
that the Cuban customer commences construction punctually and put the equipment
into operation in time, the base has also sent a service team to Cuba to assist
the customer in equipment installation and commissioning and to train the
customer on the site.