Product series of Sinomach Heavy Industry Luoyang Base move in snowy plateau
2013-11-20 15:20:54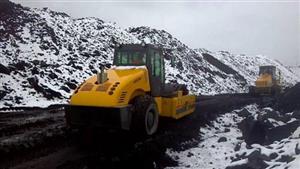 Sinomach Heavy Industry Luoyang Base has recently won the bid for road
machinery series to move in the mining area of the Qinghai Plateau.
According to sources, the equipment involved in the bid is the largest-tonnage
full hydraulic single drum vibratory roller LSD230H and grader PY220C, which
will be used in road maintenance in the mining area of the plateau at an
altitude of 4,200 meters. The base has kept to the R & D concept of rigorousness
and preciseness, and conducted adaptive testing to every generation of new
products in high-altitude areas, thus laying a solid foundation for product
reliability. Over the years, diverse products soared on the plateau, making
remarkable contributions to plateau construction and gaining high recognition
from plateau customers.