Главная страница
»
Новость
» Super-tonnage tire roller of Sinomach Heavy Industry Luoyang Base sold to Algeria for second time
Super-tonnage tire roller of Sinomach Heavy Industry Luoyang Base sold to Algeria for second time
2013-11-20 15:19:41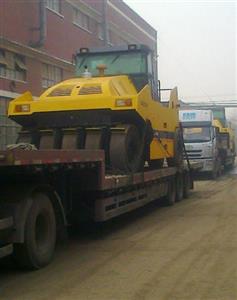 Luoyang's super-tonnage tire rollers have been dispatched to Algeria recently.
They are the world's largest-tonnage full hydraulic tire roller LRS235H as well
as the second batches of super-tonnage tire rollers exported by the base to
Algeria.
Since its launch on the market, LRS235H has enjoyed great popularity among
domestic and overseas customers. The project owns several patents: the
full-floating front wheel rams roads evenly; the monitoring system with
infrared night vision function is easy to operate and efficient in
construction; and the independent triple-stage braking system is safe and
reliable. The great-circle streamlined modeling provides good vision.