Главная страница
»
Новость
» Sinomach Heavy Industry shows up at BICES 2013 with 11 categories of high-end equipment
Sinomach Heavy Industry shows up at BICES 2013 with 11 categories of high-end equipment
2013-11-20 15:13:30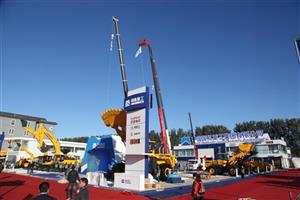 The 12th Beijing International Construction Machinery Exhibition & Seminar
(BICES 2013) took place in Beijing from October 15 to 18, 2013. Sinomach Heavy
Industry participated as the only central enterprise in the construction
machinery industry.
The booth of Sinomach Heavy Industry measured 3,990
square meters. Sinomach-branded and Changlin-branded equipment were exhibited,
including 22 models in 11 categories like excavator, backhoe loader, loader,
bulldozer, roller, grader, paver, truck crane, lorry-mounted crane, aerial work
platform and off-road dump truck.
Among the exhibits, the world's largest-horsepower grader, China's
largest-tonnage loader, China's first intelligent full hydraulic vibratory
roller, aerial work platform and all new truck crane made their debut as
representatives of large and individualized products of Sinomach Heavy
Industry.
During the exhibition, the release ceremony for China Construction Machinery
Industry Book, the exhibit appearance evaluation and colorful art performances
were held.