1st large-tonnage CAC220 all-terrain truck crane rolls offline at CJ-Crane
2013-11-20 15:06:37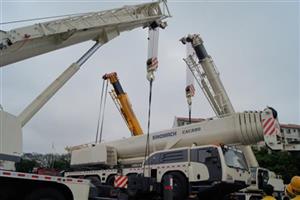 The first prototype of CAC220 all-terrain truck crane independently developed
by Sinomach Heavy Industry Luzhou Base
in a year and a half has recently rolled offline at Sichuan Changjiang
Engineering Crane Co., Ltd. (CJ-Crane) in Luzhou, Sichuan, marking that the
base has entered the "club" of large-tonnage truck crane
manufacturing.
CAC220 represents the leading level of domestic technologies. With a maximum
rated lifting capacity of 220 tons and a full-stretch main-arm lifting height
of 64.7 meters, it features a lot of R & D achievements and patented
technologies of the company. New international mainstream technologies like
six-arm single-cylinder pin-type boom and its telescopic control,
ultra-high-strength steel molding and welding boost overall performance. This
is also the most advanced all-terrain crane with the largest rated lifting
capacity manufactured by the base in the five decades since its establishment.
As a symbolic product representing the base's technical strength and brand
image, CAC220 is a new strong addition to the company's large-tonnage
all-terrain crane sector, which has not enriched and perfected CJ-Crane's
product structure and gradually pushed Changjiang brand to the industry chain
with higher value added, but also promoted the full upgrading of key
technologies of the company's 500t- cranes. It is expected to become a new
profit growth point of CJ-Crane.