Главная страница
»
Новость
» World's largest-horsepower grader rolls offline at Sinomach Heavy Industry Tianjin Base
World's largest-horsepower grader rolls offline at Sinomach Heavy Industry Tianjin Base
2013-11-20 14:59:04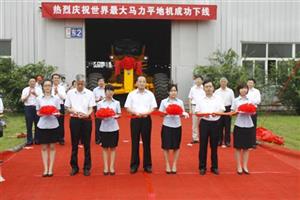 On July 19, the world's largest-tonnage grader DT660 rolled offline at Sinomach Heavy Industry Tianjin Base.
Qi Jun, chairman of the China Construction Machinery Association; Wu Peiguo, chairman
of Sinomach Heavy Industry and Yin Jihui, vice chairman of the Administrative
Committee of Tianjin Binhai High-tech Industrial Development Area attended the
offline ceremony and cut the ribbon. Wang Weiyan, president of Sinomach Heavy
Industry, delivered a speech. Also present were leaders of Sinomach Heavy
Industry and enterprises under Sinomach Heavy Industry.

DT660 grader is the latest technical achievement in the homemade grader field
representing China's grader manufacturing level, filling a domestic gap, removing
the bottleneck of upsizing of domestic equipment manufacturing. It marks a
milestone in the Chinese history of construction machinery development. As a
grader with the largest kinetic parameter in the world, DT660 is up to advanced
international standards in terms of overall performance and can fully meet
mines' need for super-large equipment.